Discover more from Houck's Newsletter
The leading weekly newsletter for founders to get advice on how to build, grow, and raise capital for your startup, written by an a16z-backed founder.
Over 111,000 subscribers
most powerful people actually do read their own emails and dms. why? they're always looking for new opportunities
but they typically don't actually need whatever you're offering and don't have much time, so they end up skipping over many messages. it's your job to minimize the likelihood of this happening
most people send terrible cold emails — they oversell, don't understand their audience, and aren't concise
here's the formula i've used to send cold emails that have brought in new partners, investors, team members, and more. i included an example below that helped us land our first term sheet
5 things that grab an investor's attention
these tactics are applicable for all types of audiences, but let's play out that we're sending an email to a potential investor
1.
make it short
the goal of a cold email is to start a conversation — not to get the investor to write a check. to get a reply, you need to first make sure your email actually gets read
most vcs get hundreds of emails each day. if yours takes more than 30-60 seconds to read, it won't get read. time yourself reading it out loud before you send. it should be 4-5 brief sentences
2.
get to the point
you want to grab their attention right away. that means cutting the fluff and getting down to business. please don't say "hope all is well"
here's a good opening sentence i would use: "i'm houck, co-founder of launch house, and we're an a16z-backed membership community of founders, investors, and more"
this is interesting for an investor because they see that i have:
raised money from vcs

relationships with other founders that they might want to meet

other investors interested in what i'm doing in multiple ways
3.
shill your credibility
lead with what you've done that's special, or your credentials. the former is better because it's unique to you, but either is ok
seriously — don't be afraid to do this, but do it thoughtfully
investors are looking for reasons that an investment is less risky than others. evidence that you've done great or unique things before is a very positive signal to them that you'll be able to do it again
investors love to see if you have:
built a previous early-stage business (ideally as a founder)

created a large audience in a related niche

formed close relationships to potential early customers
4.
state what you're reaching out about
tell them clearly what your company does and why it's interesting (early traction, strong team, great other investors, etc).
a surprising amount of people don't do this well. it's easy to fall into the trap of either over-explaining because you think this is your one shot to get in front of the investor, or trying to be mysterious to entice them to reply to learn more. neither will lead to success
it especially helps if you're able to connect why you're reaching out to something they're recently done. maybe they've written a newsletter post or went on a podcast to talk about your industry — tie that in if possible
5.
make an ask
the most important step — you have to ask for what you want
be clear and concise. make the ask small, and always have a call to action
common mistakes that i see:
asking if you can ask a question or send over a deck (just do it)

asking them to think of other people who could help (rather than providing a hitlist)

asking for general feedback (not anything specific)
also, you can include a deck but you don't need to. personally, i'd save that for later. you just need to intrigue them at this stage
example email
here's exactly the cold email i would send if i went back in time to the early days of launch house. i used something similar (less polished) to land a meeting that led to our first term sheet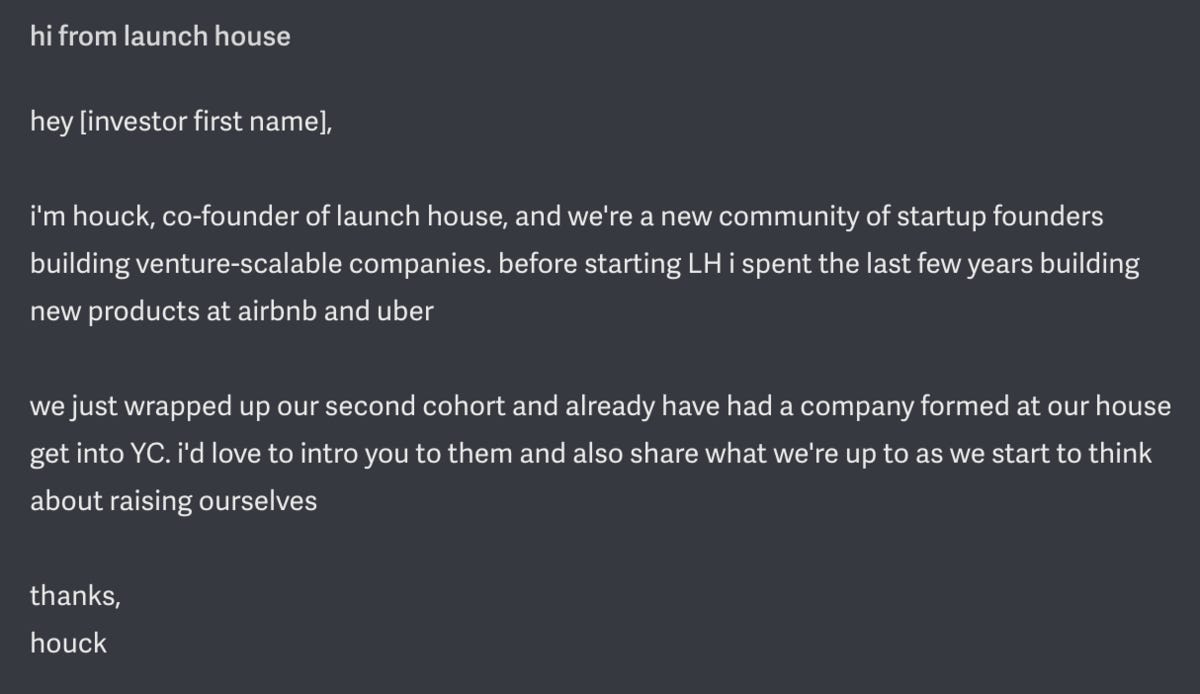 bonus: follow up thoughtfully
if you've done everything above then chances are that the investor read the email. if you didn't get a response, that means they chose not to respond yet (or ever)
you definitely don't want to spam them with annoying follow up emails, but there are ways to be thoughtful. a thoughtful follow up:
is not immediate

is very short

clearly communicates meaningful progress

naturally challenges a potential reason they may have not replied before
that last point is important. try to think about why someone wouldn't be interested and address it with your follow up when you have progress to share
homework
now let's put all that into action
if you made it this far, send me your best cold email to an investor! i'll reply to 10 people with tips to improve your message
---